INTERNSHIP PROGRAMME
---
About the Internship Programme
The Singapore Book Publishers Association (SBPA) launched the SBPA Internship Programme in 2015.
The internship programme comprises of a centralised training programme for interns working for SBPA member companies. Weekly training seminars will be organised, to introduce the interns to different aspects of book publishing in Singapore such as book retail, book production, editing, marketing and design. The seminars will be held on Fridays throughout the internship programme. Companies continue to train the interns for the rest of the work weeks. 
Applications for the 2023 Internship Programme are now open! Please note that only university undergraduates are eligible for internship opportunities offered by publishing firms with SBPA membership, whereas the publishing programme (details forthcoming) will be open to all individuals who are keen to learn more about this industry.
2022 Internship Programme
The 2022 Internship Programme was held from May 16 to July 22, 2022, conducted virtually over Zoom. Participating interns attended weekly seminars held every Friday morning, where they were given talks and exposed to various elements of the book publishing industry. These elements included editorial, sales and marketing and key industrial participation by various important stakeholders such as the National Library Board and National Arts Council.
Our interns also embarked on a field trip to the National Library, Books Kinokuniya bookstore and Markono printing plant as part of this programme, where they were shown the inner workings of the government's attempts to curate Singapore's books and print media, how bookstores were run and how books and related printed material are manufactured.
Finally, on July 22, our interns participated in the closing ceremony of the internship programme. Held as a physical in-person event at Times Centre, they were each awarded with a certificate for their participation in this year's programme. Former interns and key members of the book publishing industry were also present to provide further insight into this industry to attending interns.
2021 Internship Programme
The 2021 Internship Programme was successfully held from 17 May to 23 July. Most of the training was conducted virtually through Zoom and the SBPA organised a visit to Times Bookstore at Waterway Point on 9 July. The training programme included training seminars on comics publishing, journals publishing, non-English language publishing, as well as audiobooks and literary arts programming. A session focused on the practicalities of getting a job in the publishing industry was also introduced.
The Closing Event was held virtually on 23 July and the interns had the rare opportunity to hear from alumni who graduated from the Internship Programme on how the SBPA Internship Programme had shaped their careers.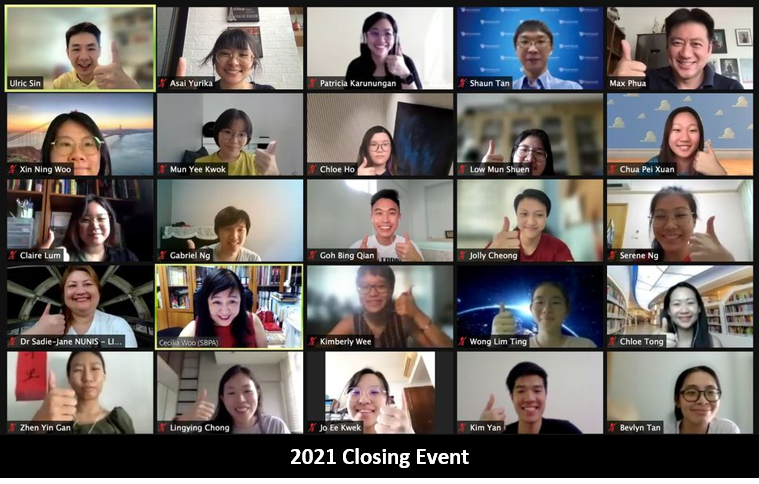 2020 Internship Programme
Although the COVID-19 pandemic has prevented the organisation of site visits, the interns were provided with opportunities to learn about the breadth and depth of the publishing industry through specially curated virtual sessions. Here is a sneak peek into some of the virtual sessions that were organised from 18 May to 24 July 2020. 
On 12 June, Chua Hong Koon of World Scientific, spoke about the role of commissioning and acquisitions editors and the critical role they play in a publishing company. He also shared on how managing authors is at the heart of any editor's work and gave tips on how to find and select authors. 
On 19 June, Zeenath Kuraisha (Asia Pacific Sales & Marketing Academy) gave an in-depth presentation on marketing strategy and how social media can help boost a company's marketing efforts. Andrew Koh (Awesome Sites) continued by sharing about Search Engine Optimisation and the importance of not only the quantity but also the quality of traffic to one's website.
On 26 June, Elaine Ee, Joyce Choong and Charmaine Oon (National Gallery Singapore) introduced the interns to the process of publishing art books as well as general titles accompanying art exhibitions at the National Gallery Singapore. The interns got a behind-the-scenes look at how content from an art exhibition is being curated for the publication of an exhibition title. 
Finally on 27 July, the SBPA Internship Programme concluded with a closing speech from speaker Peter Schoppert (NUS Press) with advice to interns on what it means to break into the publishing industry and what the future of publishing will potentially look like. Other speakers who shared their experiences included Ng Kah Gay (Ethos Books) and Chong Lingying (Asiapac Books). Alumni of the SBPA Internship Programme were also on hand to share their post-graduation journeys and offered useful advice on career development for the interns.